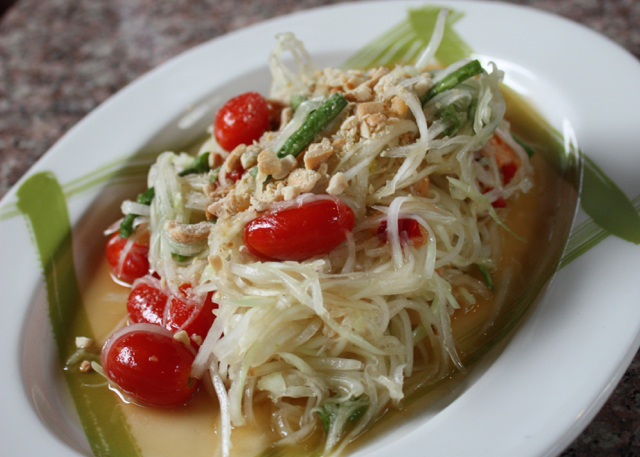 Docking at the canal-side Amita Thai Cooking Class in Bangkok, I'm greeted by founder Tam Piyawadi Jantrupon and her staff: Soy Sauce the rooster and Basil, a Mynah bird known for his masterful impression of a police siren. There are human staff members here, too, of course, all members of Tam's family.
This is a family operation through and through. The cooking school is part of a compound of six houses that has been in Tam's family for three generations – including the house where she was born. She grew up here along the canal when the waterway was the primary form of transport and commerce, and vendors would travel from home to home by boat, selling fruits and vegetables.
The canal is still a site of commerce, but the wares on display are tourist trinkets and Buddha image statues. Longtail boats still navigate the waters, too, but again, they're primarily a tourist activity rather than a vehicle of everyday life.
In Tam's compound, though, the old ways are preserved. The extensive herb and spice garden, overflowing with lemongrass, "pea" eggplant, turmeric and more, is a throwback to a time when families had to produce as much food as they could on whatever land they had. (The kaffir lime, she notes, doubles as an excellent hair conditioner.) The recipes maintain the cooking techniques Tam learned as a girl from her aunt and grandmother, both teachers at Thailand's first home sciences school.
That garden now provides ingredients for the cooking school, where groups of up to 10 guests learn traditional recipes in a half-day, hands-on course that sees them cook themselves a multi-course lunch. For my small class of five, it's coconut rice with papaya salad, satay with spicy peanut sauce, and green chicken curry in coconut milk (tofu for me, the vegetarian), with a hefty serving of fresh fruit for dessert.
Tam uses the ultra-local ingredients she's just picked, but as she demonstrates the recipes she suggests alternatives that will be easier to find at home. Instead of local pandanus leaves, home cooks can use wheatgrass or watercress to give flavour and colour to coconut rice. Shredded carrot or cucumber works in place of green papaya in a green papaya salad. This knowledge will come in handy later, since Tam provides each guest with recipe cards to take home and posts some of her recipes on her website.
After watching Tam's demonstration and tasting the dishes, we head to our own cooking stations, where the ingredients are beautifully laid out, pre-chopped and measured. Still, we need some help to ensure we get the curry's cooking temperature just right and the ingredients for the papaya salad pounded correctly with mortar and pestle (garlic takes a real whopping, but papaya and cherry tomatoes require a gentler touch). Soon, the cooking is finished, and we're ushered to a table on a shady terrace set with everything we've prepared. It all looks and smells fantastic, and we do our best to eat as much of it as we can, but it's not long before we're completely stuffed. We manage to eat a few fresh rambutans (lychee-like fruits) and pineapple for dessert, and then it's time to say goodbye.
If you go: Amita Thai Cooking Class is located on the Sanam Chai Canal in Bangkok. The 3,000 baht (approx. $110 CDN) cost per person includes hotel pick-up and drop off service and travel in a speedboat from Maharaj Pier to Tam's compound.
Originally published at FlightNetwork.com